WOW RUN 2020 – VIRTUAL RUN SERIES

The world has experienced drastic changes over the last few months. The silent cities and towns, the loss of income and the need for solitary have crushed many spirits. Yet, amidst adversity we also witnessed the rise of heroes amongst us. We observed kindness, spread in so many ways and we celebrated their bravery and courage.
Last year, WOW RUN honoured you as our Guest of Honour (GOH). We ran 7.9km through the scenic Coney Island. This year, WOW RUN would like to celebrate YOU.
For your perseverance and tenacity through this trying times as mothers
For your patience and love as wives
For your kindness and strength as women
I Run for ME: WOW RUN 2020 offers you a 3-part virtual run series dedicated to ourselves. To honour the strength for being women. To show gratitude for His blessings of health. To simply celebrate us. We hope that you will join us as we continue to strive forward towards uncertain times, strong and confident regardless.
REQUIREMENT
1. Participants may choose to register for one or all 3 races. You may also register for 3 races one at a time.

2. Refer to the race period. All 3 races are spread over 3-4 months. Participants have 14 - 28 days to complete one race.
3. Every participant is required to complete 2 out of 4 of the following challenges for the first race:
Run/Jog/Walk 3km
Cycle (x4) 12km
Swim/ Aqua Jog 1000m (20 laps)
Stairs Climb 1200 Steps
Example: I choose to Run 3km and Cycle 12km for the first race. You may also run 3km twice or swim 20 laps twice or any 2 challenges out of the 4 different types.
We would like to encourage you to go out to complete your challenges. We are now at Phase 2. You may run, swim, cycle or climb alone or with 4 other friends. Stay safe and follow all the social distancing rules. We recommend that you complete one challenge per week.
4. Once completed, submit your results (snapshot running app, watch, etc.) online. The challenge may be completed one-time off or as a cumulative one. The link for submission will be in your confirmation email and our website. You may submit multiple photos of your cumulative effort. Don't forget to post photos or videos on your social media to inspire others! Tag us @gems.movement #WOWRUN2020 #irunforme
5. Every completed race is entitled to ONE medal. There are THREE different medals for each series, designed beautifully according to the theme. Your entitlement will reach you 2-4 weeks after end date of every race. International delivery may take longer.
6. Prepare for your next race! We believe in progressive training and consistency so, the second and third challenge will be slightly more challenging. Don't worry, we believe You can do it!
OFFICIAL WOW RUN 2020 TSHIRT & MERCHANDISE by MyPrintSG
You may choose to add on these great products at the ticket counter. Please choose your Tshirt size with care.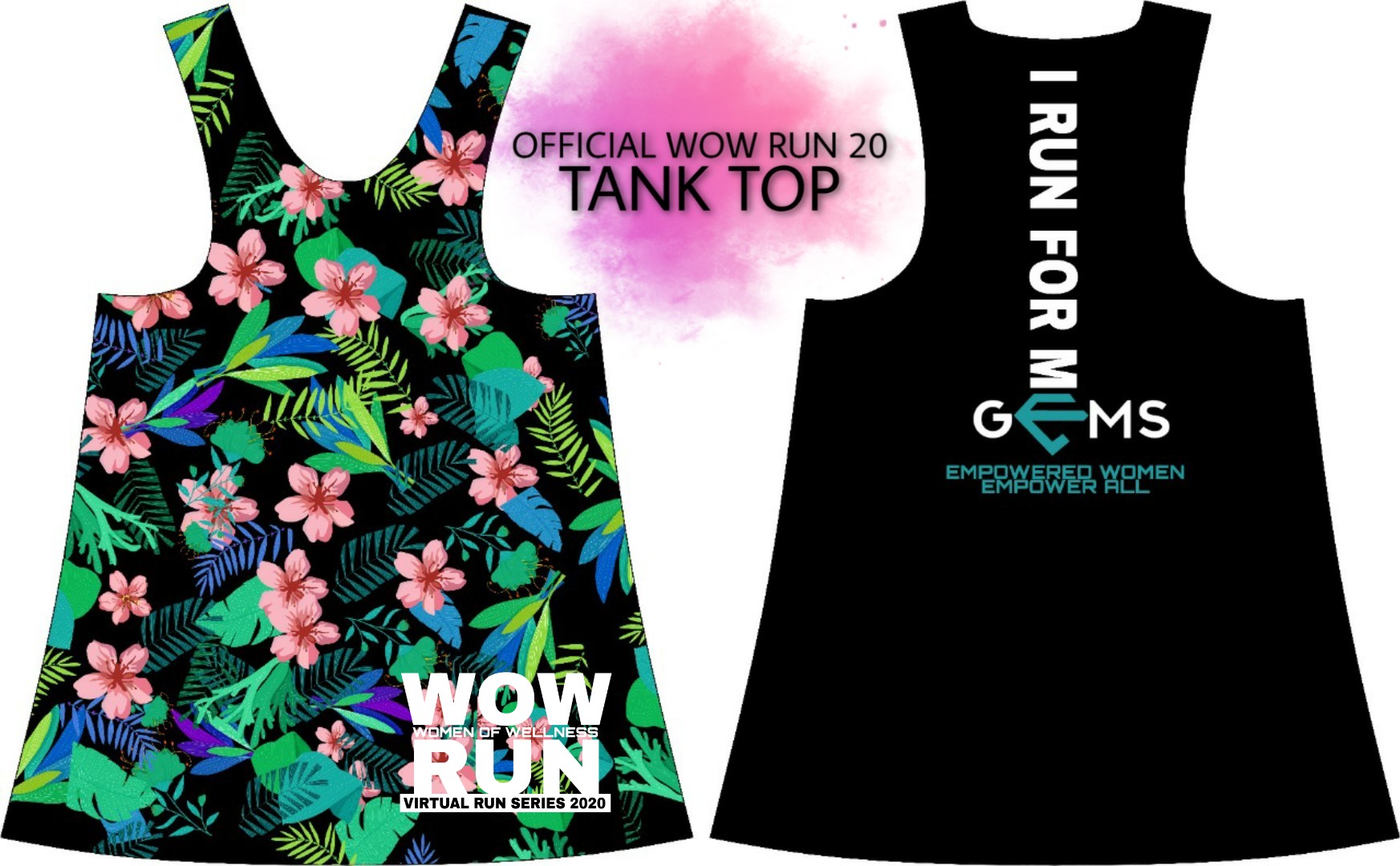 WOW RUN SUPPORTS OH SIEW MAY
A remarkable story of a remarkable young woman who was born with cerebral palsy and managed to overcome all her obstacles. "No matter how high the walls are, I will scale my way over. No matter how many times I fall, I will pick myself up and move on with the help of angels along the way." - Oh Siew May
Your book purchase will help in her efforts to continue inspiring others.
FROM OUR PARTNERS
Support our home-based business owners! You may choose to purchase the products at the ticket counter
AYN SKIN - Jet Pack Travel Set
AYN SKIN - Body Wash and Hand Sanitisers
DUA REMINDERS - Adults' Tshirt
DUA REMINDERS - Kids' Tshirt
$1 from every ticket purchase and all proceeds from purchase of merchandises and partner products will be donated to them.
Launching on 1 July 2020, KKSG will provide FREE HALAL FOODBOX to those in need like the disabled and elderlies.