Training Format : Virtual Instructor-Led Training | Weekday Batch

Continuous Testing Foundation (CTF)℠ Certification Program
Course Duration - 16 Hours
OVERVIEW
Continuous Testing Foundation (CTF)℠ known to be a freestanding certification from DevOps Institute, is appropriate for all the modern IT professionals. The objective behind this certification is to impart, test and validate knowledge of DevOps testing vocabulary, principles, practices, automation, and value; also deploying a DevOps testing strategy for their organization, as test engineering is the pillar of DevOps. CTF course is planned for development, security, and operational professionals, quality assurance, who are involved in end-to-end DevOps software testing from idea concept through live production processes.
This course certification ranks the learners to complete the Continuous Testing Foundation exam successfully.
COURSE OUTLINE
Continuous Testing Foundation (CTF) ℠Course Outline
This inclusive course – Continuous Testing Foundation delivers testing in a DevOps ecosystem and encompasses theories such as the effective usage of test automation, testing earlier in the development series, and imparting testing skills in the developers, security and operational teams, and quality assurance teams. The concepts will be applied by using actionable exercises included in the course and therefore sample documents, tools, techniques, and templates will be presented to leverage after class.
COURSE OBJECTIVES
Continuous Testing Foundation (CTF) ℠Course Objectives
This sixteen (16) hour course describes culture and team aspects for test engineering, test strategies, test infrastructures, test tools, test automation, best practices, test management and analysis.
The purpose, benefits, concepts, and vocabulary of DevOps testing
How DevOps testing differs from other types of testing
DevOps testing strategies, test management and results analysis
Strategies for selecting test tools and implementing test automation
Integration of DevOps testing into Continuous Integration and Continuous Delivery workflows
How DevOps testers fit with a DevOps culture, organization, and roles
UNDERSTAND BENEFITS OF LEARNING CONTINUOUS TESTING FOUNDATION
Continuous Testing Foundation (CTF) ℠Understand Benefits of Learning Continuous Testing Foundation
Well-engineered DevOps test scenarios speed up releases, improves quality, and lessen waste
Test automation increases acceptance pace and frequency of software changes
Testing results deliver a source of truth that helps support teams for better efficiency and satisfaction
Developers and QA career expansion towards DevOps and digital transformation opportunities
KEY FEATURES
Continuous Testing Foundation (CTF) ℠Key Features
Sixteen (16) hours of instructor-led training and exercise facilitation
Digital Learner Manual (excellent post-class reference)
Participation in exercises designed to apply concepts
Sample documents, templates, tools, and techniques
Access to additional sources of information and communities
WHO SHOULD ATTEND?
Continuous Testing Foundation (CTF) ℠Who should attend?
Anyone involved in defining a DevOps Testing strategy
Quality Assurance Managers
Testers and Quality Assurance Teams
Software Engineers and DevOps Engineers
IT Managers
Project Managers
Lab staff
Release Managers and delivery staff
Maintenance and support staff
Anyone involved in testing tool selection
CERTIFICATION
Continuous Testing Foundation (CTF) ℠Certification
Successfully passing the certification exam leads to the candidate's designation as a certified Continuous Test Engineer (CTE).
The certification is governed and maintained by the DevOps Institute; exams are delivered through an independent, global examination partner.

Trainer Profile

Niladri Choudhuri
Founder & CEO of Xellentro, ATO Working Group Member – Asia at AXELOS Global Best Practice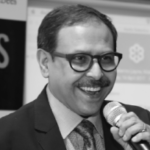 Niladri has 27 years of IT consulting and training experience across a range of verticals and technology. He has strong experience in managing large global projects and programs setting up from scratch various practices for BI/DW, Project Portfolio Management, etc.
He has been providing training and consulting to large organizations across the world on Project Management, Portfolio Management, Agile, DevOps, IT Service Management, etc.
He is the first person to be DevOps Test Engineer Certified and Accredited by DevOps Institute in India and second in the world.
He is also accredited by G2G3 for their DevOps Simulation.
Prior to his entrepreneurial start with Xellentro, Niladri worked with Satyam, PwC, ITC Infotech, etc.,in various capacities. His last assignment was with Satyam as Practice Leader for Portfolio, Program and Project Management Practice.
Full Profile | LinkedIn Profile
Training Provider

Registered Education Partner