NARRATHON - LEADING TO A CULTURE OF EXPERIMENTATION
A Narrathon, is a peer learning experience, where we will guide and mentor each other in capturing our learning as PROBES. Probes are defined by small, safe-to-fail experiments based on hypotheses derived from reflection on the current situation as well as on theory. As such probes are essential for leading any kind of change and therefore also at the core of BOSSA nova.
The class will be guided by
Jutta Eckstein
and
John Buck
.
THIS CLASS IS FOR YOU IF YOU ARE:
Scrum Master, Product Owner

Coach, Consultant
Change Agent
Manager, Leader

---
KEY TAKEAWAYS:
Understand how to come up with actions (i.e. in your retrospective) that are both meaningful and sustainable
Understand how to lead any kind of change
Learn how to bring a culture of experimentation into your company
Understand how probes can nourish collaborative learning

IMPORTANT INFORMATION:
Session times: 6.00am PDT, 9am EDT, 15.00 CEST, 18.30 IST for every session
Session dates: Oct 3, Oct 17, Oct 31 (Saturdays)
Overall course: Each session lasts 2.5 hours. The three sessions built upon each other. In between sessions collaborative learning will happen by working on the probes and helping others' to improve their probes. Jutta & John will also be available for feedback and other kind of support.
Further questions? Please contact us at bossanova@jeckstein.com


---
Here's what earlier participants say about the class:
"I am not as data-driven as a coach as I could be and this Narrathon has helped establish a more data driven approach. I have senior stakeholders who will not believe anything that I say unless I can provide data. My approach as a coach is typically to tackle mindsets and introduce better ways of thinking and so to get from here to some data providing evidence of positive change can be a challenge in a short period of time." -- Sean Cowan, booking.com
"Prior to the Narathon session, I never thought of how to work on hypothesis and running experiments to help me find a solution to my challenges. I used a number of approaches in all my assignments but I never used to define the success criteria and understand the both aspects(success or failure aspect of whatever experiment I run). It has given me the confidence to run with more probes and share it with the broader community." -- Sonali Kar, Xebia
TOPICS COVERED IN THE WORKSHOP
All topics are covered in the context of your own environment for immediate application.
Context for probing & continuous learning
Sample probes
Defining a probe by: reflecting, hypothesizing, experimenting, sharing
Complexity: Cynefin (Snowden), Stacey, Human Systems Dynamicx (Eoyang)
Experimental design & scientific experimentation
Measurement & controls
Publication
---
PROBES NOURISH CONTINUOUS LEARNING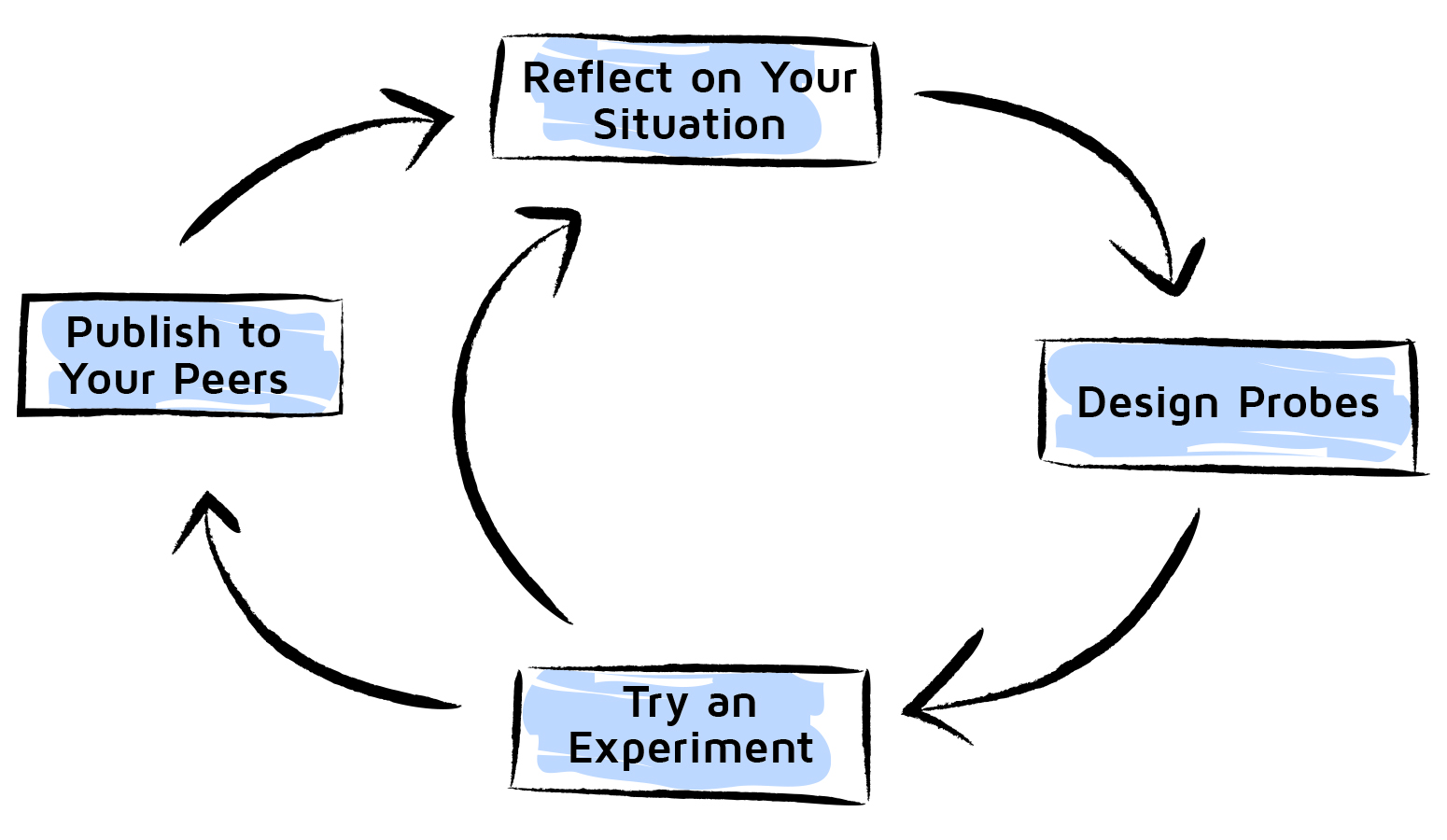 A sample probe:

Probes are described by a name, background, hypothesis, and one or several experiments. Here's a real-world example probe. And note, it's not spectacular (yet probes don't need to be spectacular..) but effective:

Name: Will consent decision-making improve involvement and agreement?

Background: Not everyone can be equally involved in decision-making. Individuals dominate decision-making.

Hypothesis: With consent decision-making in everyone's' toolbox especially difficult decisions can be made by mutual agreement

Experiment: EGs [these are specific kinds of teams] where decision-making is repeatedly described as difficult (based on a survey) are trained in consent decision-making. After e.g. 6 weeks, a new survey should be carried out. If consent decision-making is considered as a useful tool, all EGs will be trained in their use.


For further information you can (no prerequisite):
YOUR HOSTS:
Jutta Eckstein works as an independent coach, consultant, trainer, author and speaker. She has helped many teams and organizations worldwide to make agile transitions. She is experienced in applying agile processes within medium-sized to large, distributed mission-critical projects and has written about her experiences. She holds a M.A. Business Coaching & Change Management, a Dipl.Eng. Product-Engineering, and a B.A. in Education.

She is a member of the Agile Alliance (having served on the board of directors from 2003-2007) and a member of the program committee of many different American, Asian and European conferences, where she has also presented her work.

John Buck is President of GovernanceAlive LLC, an international training and consulting organization headquartered in Washington, DC, USA. The firm also offers mediation and meeting facilitation services. John has taught many training workshops on sociocracy and led many implementation projects for a variety of organizations, more recently expanding to include BOSSA nova. He serves on the boards of various other organizations. His research and development is ongoing. For example, he is working with Fujitsu's advanced software lab to develop Weaver, software that helps meetings go better – in-person, online, and asynchronous.

John Buck has extensive management experience with government and corporations, including managing large information technology projects. His clients span the globe and include plastics manufacturers, schools, colleges and universities, long-term care facilities, co-housing groups, NGOs, food producers, and software companies. He holds an MA in Quantitative Sociology from The George Washington University.