DevOps Transformation Experiential Simulation (DTX-i)
Session Duration - 3.5 Hours
OVERVIEW
Overview
DTX-i is a highly interactive experimental learning workshop which demonstrates the business value and positive impact of a DevOps approach.
Accelerate Understanding and Adoption of Complex Messages
DTX-i is a vastly immersing, virtual, single player strategy simulation that connects and educates people at a greater scale. This web-based knowledge offers vision to the technology leaders and their respective organization about the essential modules and environment of Digital Transformation.
About DTX-i
DTX-i simulates an intricate venture business model which instructs the participants on the strategic Digital Transformation preferences facing organisations and gives quick feedbacks on their impact on the company performances.
DevOps Transformation Experiential Simulation is a game-changer that can power online education, virtual conferences, virtual instructor-led workshops, or customisable to provide support to the marketing campaigns for software vendors.
BENEFITS OF THE DEVOPS TRANSFORMATION EXPERIENCE SIMULATION
DevOps Transformation Experiential Simulation (DTX-i)
BENEFITS OF THE DEVOPS TRANSFORMATION EXPERIENCE SIMULATION
Accelerates adoption of DevOps across the enterprise
Turns DevOps opponents into advocates
Clearly communicates the DevOps case for
change
Accelerates a positive DevOps culture
Creates shared understanding for Development
and Operations around how to work together as
a high performing cross-functional team
Provides new practices that can be executed
with immediate effect.
HOW IT WORKS?
DevOps Transformation Experiential Simulation (DTX-i)How it works?
THE SIMULATION IS TYPICALLY DELIVERED OVER 3 ROUNDS
ROUND 1 – CHAOS
Participants are quickly immersed into a real life complex application development scenario. Chaos ensues, with poor communication and a lack of collaboration resulting in poor business results, higher development costs, longer testing times and more. As a result, opportunities are lost and revenues are negatively impacted. Following the first round, a review is facilitated to identify the issues and to discuss how a DevOps approach could drive improvement.
ROUND 2 -IMPROVED
Round 2 builds upon the learning outcomes from the previous round and introduces processes such as Service Virtualization, Minimum Viable Product iterations, Fail Faster and more. This drives maturity and empowers the teams towards automation, building a more collaborative culture, and ultimately improved business results.
ROUND 3 – OPTIMIZED
Building on the learning outcomes of Round 1 and 2, participants learn that instilling a DevOps culture is key to achieving operational excellence. Participants experience a pronounced shift in the reduction of development times and the number of errors each application had before reaching operations. Through collaboration, streamlining, automation and repeatable practices, participants realize improved ROI and optimized business results.
WHO WILL BENEFIT?
DevOps Transformation Experiential Simulation (DTX-i)Who will benefit?
The DevOps transformation experience simulation is suitable for:
Executive buy-in to DevOps initiatives
Engaging Development Teams
Engaging those involved in Service, Process & Integration roles
Engaging Operations
Engaging the wider business
For tool and services vendors promoting DevOps solution
OBJECTIVE – DTX-I
DevOps Transformation Experiential Simulation (DTX-i)Objective – DTX-i
Take the lead of a legacy business into a new digital pattern, where it can compete at the best of the market.
Evaluate data and implement several actions across the IT enterprise to improve business performance.
For doing so, consider, experiment, and observe the impact of your choices and how they might perform in the real world.
Trainer Profile
Niladri Choudhuri
Founder & CEO of Xellentro, ATO Working Group Member – Asia at AXELOS Global Best Practice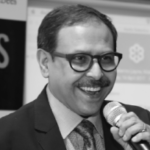 Niladri has 27 years of IT consulting and training experience across a range of verticals and technology. He has strong experience in managing large global projects and programs setting up from scratch various practices for BI/DW, Project Portfolio Management, etc.
He has been providing training and consulting to large organizations across the world on Project Management, Portfolio Management, Agile, DevOps, IT Service Management, etc.
He is the first person to be DevOps Test Engineer Certified and Accredited by DevOps Institute in India and second in the world.
He is also accredited by G2G3 for their DevOps Simulation.
Prior to his entrepreneurial start with Xellentro, Niladri worked with Satyam, PwC, ITC Infotech, etc.,in various capacities. His last assignment was with Satyam as Practice Leader for Portfolio, Program and Project Management Practice.
Full Profile | LinkedIn Profile
Training Provider

Registered Education Partner