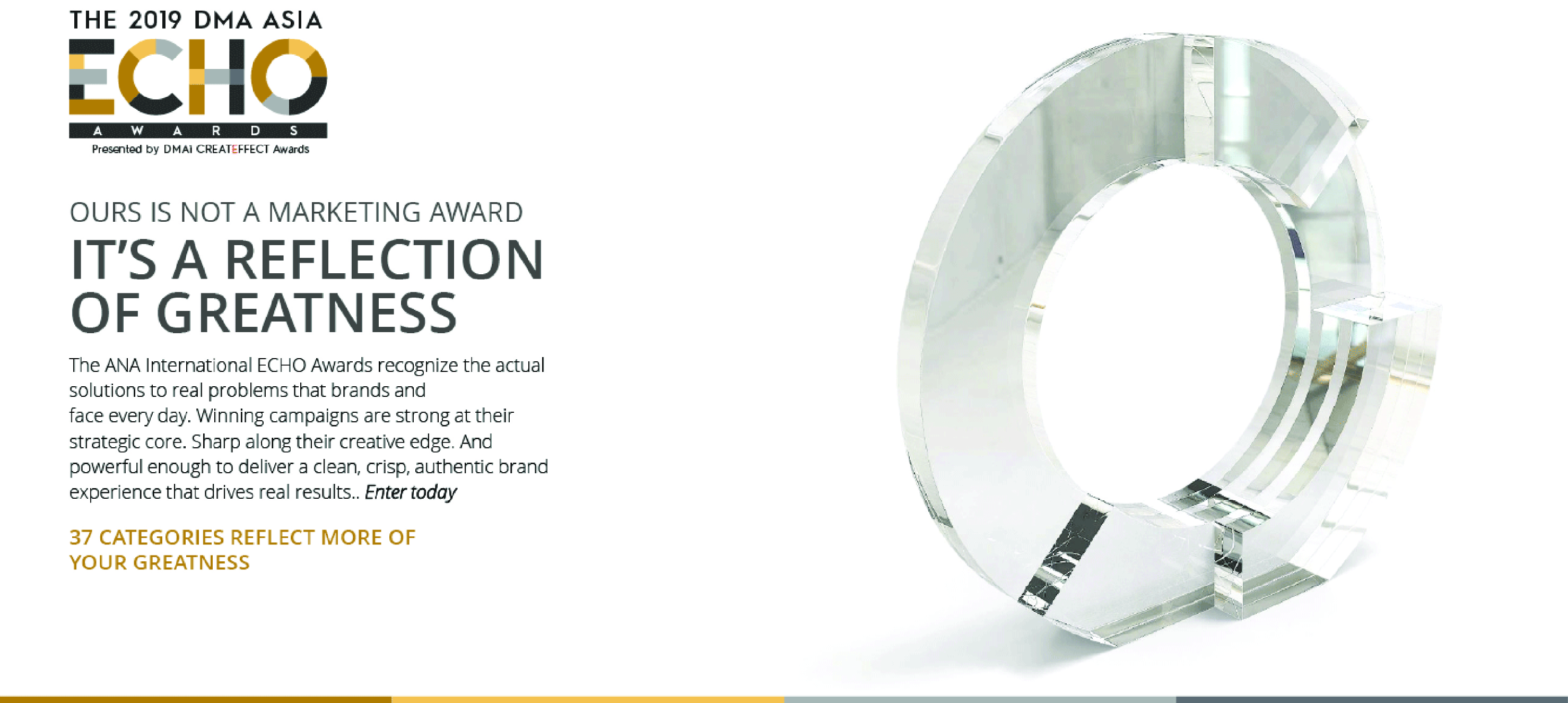 2019 DMA ASIA ECHO AWARDS
REFLECTING GREATNESS.
AT HOME & AT THE GLOBAL STAGE.
For the past 90 years, the International ECHO Awards have recognized the best campaigns in data-inspired marketing around the world. Now, for the first time, these storied awards will be administered by the ANA. Will you be the first to win the new ANA International ECHO Award? With 37 categories, 2 rounds of judging and over 400 jurors, will your work take us to the next level?
The ANA International ECHO Awards celebrate exceptional data-inspired strategy, creativity, and results. Be the architect of your fate and earn recognition at the DMA ASIA ECHO® Awards at first. The DMA ASIA ECHO® awards mirrors it global avatar. As an entrant to the DMA ASIA ECHO® Awards, presented by the DMAi CREATEFFECT Awards, you get deeply subsided entry fees, extended deadlines, and fast track to the ANA International ECHO® Awards to the final round for the eligible local & regional winners.
IN THE COMPANY OF GREATNESS
ECHO Award winners have represented the world's greatest data-driven storytellers, their amazing work, and the stunning performance they have achieved. Will you join them this year?
TAKE YOUR PLACE AMONG GREATNESS. Enter the ECHO Awards today.
Since 2012, your local DMA has partnered with the DMA International ECHO. The program has now expanded over the last 7 years. Enter The 2019 DMA ASIA ECHO presented by the DMAi CREATEFFECT awards. Your gateway to global greatness.

Subsidised Fees for the International ECHO

REAL WORK. REAL BRANDS. REAL CHALLENGES.

The ECHOs are the only awards that recognize actual solutions to real problems that brands and marketers face every day.
Here's what awaits you when you win:
Proof that your talent lies in your ability to build relevance and influence that creates substantial results for your brand.

Peer-led affirmation that your work is an example of what great marketing looks like.

A career-boosting accolade recognized around the world and the hefty weight of an ECHO trophy.
START WINNING TODAY
When you submit your entry at The 2019 DMA ASIA ECHO you can qualify for entering the 2019 DMA International ECHO awards directly without any additional fees. The screening rounds from 2019 for the DMA International ECHO for Asian entries will be done locally with jurors who understand the local context as well.
Increase your chances to make it to the next round at the International Judging arena. When you pay significantly lower, due the subsidy by DMAasia, you have the opportunity to enter more of your best work in multiple categories. Savings and enhanced chances of winning.
IMPORTANT DATES
Call for Entries: OPEN NOW!
Entry Deadline: Aug 9th
ECHO ASIA Gala (Mumbai ) September 24
ENTRY GUIDELINES
The official entry guidelines from fees to file uploads
ENTRY TIPS
The unofficial word to the wise on how to win marketing awards
CATEGORIES FOR ENTRY
31 categories across different channels, sectors and crafts to showcase your work.